105TH BIRTHDAY BASH HELD AT TWELVE OAKS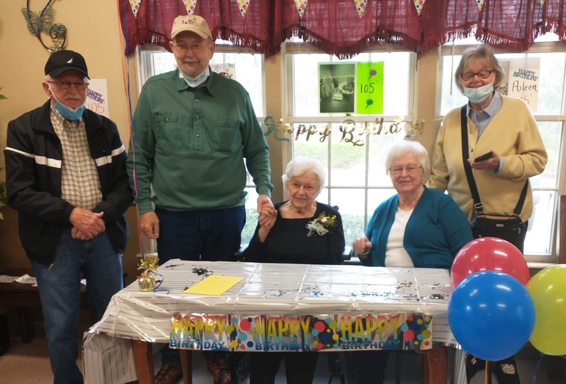 Surry County native celebrates a century-plus-five surrounded by family and friends
Aileen Badgett was born on April 9, 1917 in Surry County. These days she's a resident at Twelve Oaks Assisted Living & Memory Care in Mt. Airy – and she just celebrated her 105th birthday this weekend at her home.
At 105, Badgett is still sharp and independent. And she has some advice to those who'd like to live past the century mark. It's simple: "Trust in God, read the Bible and go about it daily," she said. "God has blessed me."
She was raised one of nine children. Her father owned a men's store in downtown Mt. Airy where he sold Stetson hats, along with men's suits and everything a well-dressed man would need. Often, his suppliers would give him wool samples, which Badgett would sew into quilts.
When she was 21 she married a tobacco farmer, Samuel Wesley Badgett, who also grew hay and raised cattle. Badgett didn't shy away from helping him in the fields. Today, her smooth skin makes her looks younger than her years, which she says she owes to wearing a hat outdoors and protecting her skin from the sun.
"She wore a bonnet all the time when she was working tobacco," Badgett's daughter Ann Stewart recalled. "And later she would wear straw hats."
She was well known for her sewing skills. She made all her own clothes and made outfits for her two children as well.
"She made my brother a three-piece suit with a vest and everything," Stewart said. "It was a nice suit — she's meticulous about everything she does."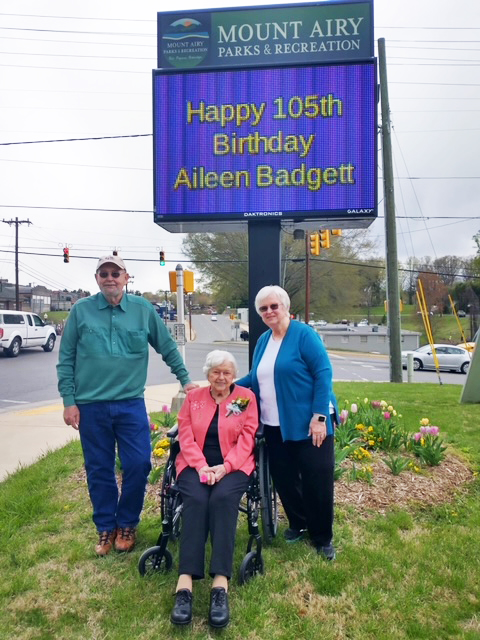 Badgett's other advice is to drink milk. She swears by it, says it's what's sustained her all these years. She plans to have a glass of the good stuff along a slice of vanilla cake — her favorite — at her birthday celebration this year.
"We had a big ole' party," said Twelve Oaks' Activities Director Anna Burford. "The residents love it — we made a whole day of it."
The staff at Twelve Oaks have held a big celebration on her birthday since she moved into the community at age 102. This year the party included a big cake, singing and fellowship — along with a crown and a bouquet of flowers. Badgett enjoys it, but she's a reserved person who values her privacy and she said it would be all right with her if the festivities are on the quiet side.
"She's a peaceful person, she's just a joy to have here," said Twelve Oaks' Executive Director Penny Haynes.